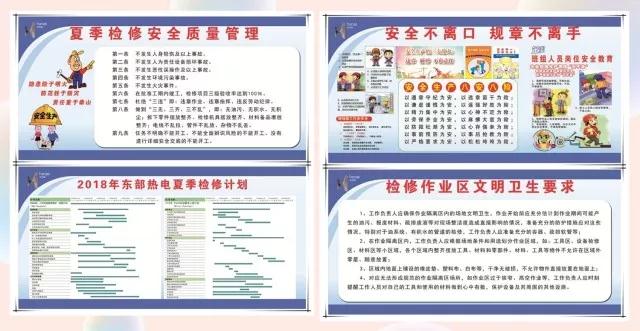 Safety, High Quality and Efficiency – Summer Outage 2018
In June 2018, Ningxia East Thermal Power Co.,Ltd. began a 45 day summer outage work. This outage work has multiple, extensive and cross operation. In order to ensure the safety, quality and efficiency of various maintenance tasks, the company leaders have put forward high standard requirements from the perspective of safety and quality.
Adhering to the principle of "life priority, safety first", all stuff should keep in mind the safety mission, in accordance with the power safety regulations strictly ensure t the safety measures are in place, carefully overhauled and carefully maintained.
According to the technical standards of the maintenance documents, we should find out and deal with the problems early and eliminate the defects. To achieve the "zero violation and zero defect" standard.
To implement the "quantity, faster, better, province" policy: "quantity" is inspection, more analysis; "fast" is quick action, rapid progress, "better" is good quality, good technology; "province" is time, high efficiency.
Finally, it requires all participating stuff to give full effort to the spirit of cooperation and strive for "quality projects". At the same time, we hope to take this outage as an opportunity to strengthen the study, master the maintenance technology, improve technical ability, complete the annual outage task and ensure the long cycle safe operation of the power plant.